After trying this Eclair recipe, you'll ask yourself why you didn't try it earlier. I was one of those people who thought it might be hard to make eclairs. But let me tell you, this is not true!! They are not only easy to make but also taste divine, and I can guarantee you'll make them again and again.
This is one of those recipes that you get better at the more you do it. If it's your first time making eclairs, I suggest you read through this post. I will address a few important points for achieving the perfect eclair.
This post may contain affiliate links, please see our privacy policy for details.
What are eclairs?
Eclairs are made with choux pastry filled with pastry cream and dipped in chocolate. But you may ask what is Choux pastry, also called "Pate a choux" (Pot ah-Shoo)?
Pate a Choux is a delicate pastry dough made with water, butter, eggs, and strong flour that is cooked on the stovetop before baking. The double-cooking process is what creates the hollow interior of the eclair. As the flour goes through a heating process before baking, the starches are gelatinized, which helps to support the structure of the gluten when the steam is released in the baking stage.
The moisture and the egg protein in the dough are what make this incredible light and airy pastry so good. When it's baked in a hot oven, the moisture evaporates and the egg protein stretches, which creates crispy and light as-a-feather eclairs.
You can use this dough to make not only eclairs, but also profiteroles/cream puffs, craquelins, and many more desserts.
Ok, we know now what Eclairs are. Let's talk about the process of making them and what to avoid doing.
The one most important thing to remember is

DO NOT

open the oven door before the eclairs have risen (first 25-30min.)! If you do, you will end up with flat or sunken eclairs, and you don't want that to happen.
The shell should be crispy, not soft or soggy. If you leave them out for too long, being exposed to air will soften them eventually. That's why you want to keep them in an air-tight container as soon as they are cooled.
Another reason they are soft, flat, or soggy might be because the dough was too runny and didn't keep its shape when piped. This happens if you didn't put enough flour or had too much liquid (eggs, water, butter) into the dough.
Removing the eclairs from the oven too early can also cause them to sink, not giving them enough time to crisp up. This is why I recommend after the 30min mark, as they are nicely puffed and golden on top, take them out and quickly poke them with a toothpick or a knife. I like to poke them in the same place where I will be piping in the cream later, you don't want to have holes all over the eclairs and cream oozing out when you bite into them. Put them back in the oven for the final few minutes of baking. This helps the steam trapped inside to be released and develop the perfect interior and stronger shell.
On another hand, if you end up with too crisp or crumbly eclairs, there are a few reasons for that to happen. The dough was too dry, you either added too much flour or not enough eggs. A good sign for that is not having a glossy sheen when making the choux. Also, you might've baked it for too long which causes them to dry.
Too many cracks!

I don't mind them, and it doesn't affect the taste. I just call them perfectly unperfect. And if you get a crack or two, don't worry about them, they will still be delicious!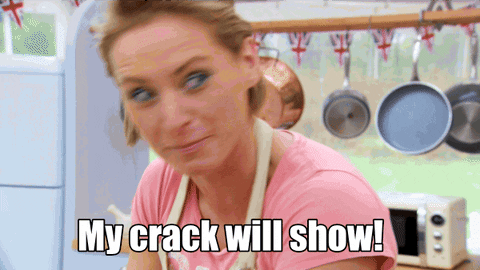 So, how to avoid these cracks? To begin, you can pipe them with a French start tip rather than a round tip. The zig-zag type of nozzle (French start tip) creates more surface area that allows the eclairs to expand when baking without cracking. If you are using a round tip, you can use a fork and run it through the surface of the piped eclair, creating those lines.
Also, make sure when you are piping the eclairs, use the same pressure to achieve a consistent shape with each one. There is no magic to this, it's called practice. The more you do it, the better you'll get. One tip I can give you is when you are piping the eclairs, have the edge of the tip touching the surface and keep it at a 45º angle. That will give you more support and smooth pipping.
Another thing to pay attention to is making sure the salt and sugar are dissolved before adding the flour and that the flour is sifted to avoid any lumps. All those things can interfere with the final look of the eclairs.
High temperatures can also cause cracks to form on the surface of the eclairs. Although in many recipes, you will see people using two different temperatures, one high in the first few minutes and then lowering it for the rest of the baking. The reason for that is to force the dough to rise quicker by having the water evaporate faster and then lowering the temperature to finish the baking. That can definitely work. But I prefer to bake them at the same temperature. I think this way is more consistent and gentle to the dough, and less likely to develop cracks. If your dough is the right consistency it will rise no matter the temperature technique. Try both ways and see what works for you best.
Very important, as in any recipe that uses flour, is to weigh the ingredients!!! If you like to bake, investing in a kitchen scale is not only inexpensive but also will help in achieving consistent results every time.
Whisking the eggs before adding them to the dough is recommended. This way you'll be able to add a little at a time and be in more control of how much liquid you add. Plus having the eggs already whisked helps with the smoothness of the dough.
And that sums up everything you can encounter while making eclairs, as well as how to avoid them. Now, let's actually make them!
How to make eclairs?
You need basic ingredients: Water or a mix of water and milk. Butter, sugar, flour, eggs, salt.
The process of making the actual dough is very simple. As you can see in the images, you need just one saucepan. Add the water, butter, sugar, and salt. Melt them. As soon as it starts to boil and everything has dissolved, dump in all the flour and start mixing over medium heat. The goal is to have most of the water evaporate and end up with a thicker consistency. When it creates a film on the bottom of the pan, it's ready. Although, if you feel like it still has too much moisture, give it a few more stirs before taking it off the heat.
Transfer the hot dough to the bowl of a stand mixer, or you can use a hand mixer. Fold it a few times to let it cool off faster and spread it out in the bowl, which also helps with speeding up the cooling process. Wait a few minutes. Start adding the whisked eggs a little at a time while mixing. Keep an eye on the consistency; it should be smooth and glossy. Stop often and do the finger check. Run your finger through the dough; if it leaves a mark and the sides are slowly folding on themselves, the dough is ready. It's better to check more often than make it too runny and try to fix it.
A helpful trick is to add the piping bag with the nozzle into a tall glass or a cup to fill it with the dough. Once you have that ready, start piping the eclairs or profiteroles onto the baking tray lined with a silicone mat or parchment paper.
When piping the eclairs by nature they will have a little tip at the end. Don't leave them like this or they will burn when baking. It's very easy to fix, by dipping your finger in water and gently smoothing it out. I like to pipe the eclairs at about 3.5 – 4 inches(9-10cm). They will expand as they bake. Once ready, transfer them to a cooling rack.
When making Eclairs I like to have the pastry cream already done by making it the day before. If you making everything the same day, start with the cream first and then do the dough. That way it will have more time to chill in the fridge.
The principle of making the Pastry Cream is very similar to the actual dough. Here are a couple of recipes for Classic Pastry Cream and Chocolate Pastry Cream.
How to make Pastry cream?
Pasty Cream ingredients are also very simple. All you need are milk, egg yolks, sugar, cornstarch, vanilla, butter, and salt. If you are making chocolate, then you will need cacao powder or chocolate. The process is also very simple and similar to how you would make the dough. This Classic Pastry Cream Recipe has detailed directions, but I'll go over the process here too.
You need a saucepan to which you will add the milk and vanilla seeds. Heat it up till just about boiling.
Meanwhile, in a separate bowl, you will combine the egg yolks, sugar, salt, and cornstarch.
Then, when the milk is ready, you will pour a small amount of it into the egg mixture to temper it, whisking constantly. Once they are tempered, you can add the rest of the milk and transfer it to the stovetop.
Make sure you are whisking the whole time while cooking, or it will stick to the bottom. It will thicken very quickly (2-5min.)
When ready, take it off the heat and add the butter. Mix until everything is combined. At this point, you can add the chocolate if using it.
Transfer it to a bowl and cover it with plastic film by touching the cream. If you just put the plastic over the bowl, the cream will form skin as it cools, which is not a good idea. Keep it in the fridge until chilled and ready to pipe.
It doesn't have to be completely cold when filling the eclairs or profiteroles, but shouldn't be warm either. It thickens as it cools. So, give it at least 2 hours in the fridge before using it.
When filling the eclairs, I like to make one hole on each side at the bottom of the eclair. You can also try just one hole at the bottom center.
And of course, adding the final touches. I'm talking about the chocolate and nuts on top. All you have to do is melt some chocolate and dip the eclairs in it. Sprinkle some chopped nuts of your choice and you are done!
You will be so proud of yourself for creating such a beautiful pastry and you definitely deserve to eat as many as you'd like! They are great for birthday parties, or any celebrations since they are individual sizes and easy to eat.
How to store eclairs?
Once they are ready, you can have them at room temperature for a few hours, or you can keep them in an airtight container in the fridge for a few days. The shells might soften as they sit, but they will still taste delicious! You can also freeze the Choux Pastry but without the cream. The reason for that is the pastry cream will not have the same thick consistency when thawed, it will become runny and make the whole eclair soggy and unpleasant.
I hope that after reading this post, you will feel more at ease and confident in making choux pastry and using it to make Eclairs, Profiteroles, or Choux au Craquelin.
Let's connect!
I would love to hear about your experience and if you have any questions. Leave a comment below and let's chat. Also, get in touch with me on Instagram, Pinterest, and Facebook. I would love to connect!
HOW TO MAKE THE PERFECT ECLAIRS (RECIPE)
Once you make eclairs you can never stop! This recipe makes the perfect eclairs with detailed directions and photos.
Equipment
Piping Bags

Piping Tips

Perforated Baking Mat
Ingredients
240

ml

Water

1 cup, or half water half milk

115

g

Butter

1/2 cup or 8 tbsp

2

t

Sugar

10g

1/2

t

Salt

130

g

AP Flour or Bread Flour

1 cup

4

Eggs
Pastry Cream Options
Instructions
*If it's your first time making eclairs, I suggest you read all the notes above to avoid any mistakes and troubleshooting.

If you haven't made the Pastry Cream already, do that first, so it has time to chill in the fridge.

Preheat the oven to 390F (200C), without the fan.

Line a baking tray with a silicone mat, perforated mat, or parchment paper.

Add water, butter, sugar, and salt to a saucepan over med heat.

Meanwhile, whisk the eggs.

Once the milk starts boiling and everything is melted add the flour all at once. Mix it in and keep steering till it thickens and forms a thin layer on the bottom of the pan.

Take off the heat and transfer to a bowl of the stand mixer with a paddle attachment, you can use a hand mixer as well. Spread the dough in the bowl so it can cool off faster. Wait for a few minutes before the next step.

With the mixer running, start adding the whisked eggs, a little at a time. The dough will look chunky at first, but very quickly it will become smooth and glossy. When you add about half of the eggs stop and check the consistency of the dough. Be careful towards the end, you might not need to add all the eggs. The dough is ready when it slowly falls down from the paddle attachment in a V-shape.

Once the dough is ready, transfer it a piping bag with a French Tip nozzle on it. If you don't have a french tip, you can use just a round one, but after you pipe them run a fork over them to create the needed texture for the eclairs to expand without cracking.

Pipe each eclair it a 45° with the edge of the tip touching the surface for support. The length of each eclair is about 3.5-4 inches(9-10cm). Leave enough space between each eclair as they will expand when baking. When piping the eclairs it will create a tip at the end of each one (see images). Do not leave it as it can burn when baking. You can smooth it out easily by using a wet finger.

Right before baking turn the oven to 350F (180C). Bake on the middle rack for about 40-45 min. Do not open the oven in the first 30 minutes, not until they are puffed and golden brown.

Take them out of the oven and transfer to a cooling rack. Once cooled, fill them with pastry cream.

If you would like to top them off with chocolate and nuts, melt some chocolate over a double boiler, dip each eclair in the melted chocolate and sprinkle some nuts of your choise.

Best served the same day. Store them in an airtight container in the fridge or you can freeze them for longer.